Consider that...
4.3 million
NEW BUSINESS registrations were filed in 2020
+% from the prior year
%
of Business owners won't change their initial product/service suppliers in their first year of business*
%
of Business owners won't ever change suppliers over the life of their business*
*CEB/Gartner Research of 2000+ Small Business Owners – 2017
Getting your message in front of these decision makers FIRST is critical!
When targeting New Business Owners, there is a very short window to secure your place as their vendor of choice. The company with the fastest marketing campaign offering the proper solution for a new business owner generally gets their business. And since winning companies generally keep those new customers for many years to come, speed to market becomes even more important. That is why savvy B2B marketers are utilizing MarketForce's ROI Network to reach these decision makers before the competition even knows they exist!
What is the ROI Network?
The ROI Network is a coordinated, turn-key, multi-channel new customer acquisition program powered by MarketForce's premium, Real-Time New Business data. Within days of a new business registration, we can get dozens of your marketing messages in front of New Business Owners by leveraging our network of industry leading marketing channel partners.
How does it work?
MarketForce's New Business data, compiled in real-time, is delivered to our network of partners for lightning-fast deployment. Utilizing client supplied artwork, direct mail will be printed, personalized, and mailed 1st class, ensuring your message is 'first in the mailbox'. In addition, using client supplied creative, social media and targeted web display ads will be coordinated with impressions timed to arrive just before and after the direct mail for maximum impact. With numerous branding impressions and offers delivered early in their formation, a New Business could become your life-long customer before your competition ever reaches out!
ROI Network – An ongoing Customer Acquisition tool
Back end analytics will reveal the best combination of marketing channels, creative, audience segmentation, and offers over a multi-week pilot program targeting your ideal audience. After determining which techniques are most effective, the winning combination will be utilized to drive an ongoing stream of cost-effective and long-term customers to your company!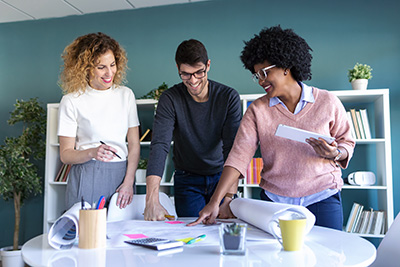 We can target your audience by:
Industry / SIC Code
Business Type
Geography
Direct Mail
Using your artwork, the ROI Network will print, personalize and deliver a post card, flier or letter in under a week, via the US Postal Service.
Web Display Ads
Ads will be delivered to the Internet Router IP address matching the owner's business or residential postal address. No cookies required!
Paid Social Media
Facebook, Instagram and other social media ads will be sent to business owners before and after the Direct Mail is delivered.
Remarketing
Website visitors that clicked, but didn't purchase, will receive reminders.
Utilize the ROI Network to beat your competition
Contact Us